Our village, Els Pallaresos
DESCRIPTION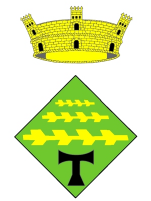 Els Pallaresos is a village located on a small hill from 125 meters in the district of Tarragones, Tarragona Province, in the Autonomous Community of Catalonia. It is surrounded by housing development. In recent years, it has had a population growth of very important people,mainly due to its proximity from the city of Tarragona (4 miles about). Traditionally the main livelihood of the villagers (Pallaresencs) was agriculture (the cultivation of hazelnuts, almonds, grapes, cereals, carob and olive oil). Nowadays, half the land isn't good for cultivation and therefore dominates the pine forest.
Link to website of Municipality, Els Pallaresos
PLACES TO VISIT
Each village has its emblematic character who for their work and dedication during his lifetime has left its mark and local and global impact. In the village of Pallaresos stands out above all Josep Maria Jvjol i Gibert, who besides having been an architect he was also a draftsman, furniture designer and modernist painter.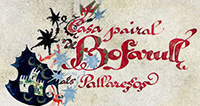 The architecture of the town is characterized for several works by the modernist architect. His works are the schools, reform and restore Sole House, Andreu House, Emilia Fortuny House and and side altars of the parish church. But the most valuable compressed architectural work program was the reform of "the Bofarull House", with his lightning rod shaped angel. In 1913 Jujol began his intervention on Casa Bofarull, finishing its remodelling in 1933. This home today can be visited through the efforts of its owners, Maria Merce and Anna.
Mn. Pascual, who was priest of the village for several years, said "Els Pallaresos is a village with two belfries" with reference to the highest tower of the Bofarull House and the church. A very famous person who admire the works of Jujol architect is John Malkovic. The actor, director and American producer visited the Bofarull House and he was delighted with the work of architect from Tarragona.
We explain details of the Modernist route and more information about Jujol architect. You just have to ask at reception.
SPORTS FACILITIES
Public municipal swimming pool is only open during the summer months (July, August and September). And throughout the year it is open football field with artificial turf, petanque court and sports courts outdoor for football or basketball practice. Soon, the town will have a new sports court.
If you like sports and want to have more information, you just have to ask at reception.
CULTURAL ACTIVITIES AND FESTIVALS
Els Pallaresos celebrates Winter Local Festivity on the 20th of January by Sant Sebastian. And Summer Local Festivity on 6th of august by Sant Salvador. During the rest of the year are held many events and celebrations which prepared the various associations, clubs, City Hall, collas, Afer de la Dona, Gegants dels Pallaresos, Club Excursionista sense fronteres, Asociació de Pubillatge, Ball de Diables dels Pallaresos, etc...
Among the wide calendar of events we highlight the ecological fairs, craft fairs, annual meeting gegants, akelarre, Halloween, night of San Juan and people events.
If you want to know which events are held during your stay, you just have to ask at reception
RESTAURANTS AND GROCERY STORES
All our apartments have kitchen so our customers can cook whatever they want. But if you prefer not to stand in front of the stove, from our village you can find other gastronomy options to choose. Grocery stores and restaurants that are closer to our apartments are the following:

Al Cunductu: (NEW) Coffee-pizza place. It's located just a few meters from the apartments.
https://www.facebook.com/alcunductu.cafepizza


Can Boada: Oldest Bar and Restaurant in village. Its walls are lined with photographs and details showing events that have happened throughout history in the town. Quico, the owner, prepares delicious home cooking. And Your guests appreciate it.
https://www.facebook.com/canboadapallaresos

Els Pallaresos bakery: You can't go away from Els Pallaresos without tasting a pastry called "zucchini coke" or "coca de carbassó". Finger licking goodness!

Restaurant La Rosa dels Vents: It is located in one of the nicest places in village, the old barn, next to "The bofarull House". It offers modern and high quality cuisine. Rafa and his wife indulge their guests with delicious and original dishes.
http://www.larosadelsvents.com/

Bar Shield Hot Dog burger: If you like Harley Davidson culture and fast food (hamburgers, sandwiches, mixed dishes and chips) Patri, the cook, will prepare it. Enjoy your meal!
Pastisseria Ares: Celebration Cakes, biscuits, buns, confectionery sweets. It's located at 200 meters
Dogai Japan Take away: Japanese handmade cuisine from Carmen and her son Arnau. Just to 100 meters away from apartments. Next to Can Boada Restaurant.